to Puerta Vallarta
BAHIA BANDERAS
LA CRUZ AND PUERTO VALLARTA
Dolphin Adventure Puerto Vallarta
Leaving around noon on Friday, January 16, 2004 for Puerto Vallarta. Had a great time in Cabo San Lucas.
Funny story. We were worried about the weather this week and I decided that I would add to Mark's fax downloads from NOAA by going to an internet cafe. Since it was raining pretty hard, and the streets were flooded, I was not surprised to see a pretty ugly set of clouds over the Baja Peninsula from the CNN web site. I even downloaded that ugly weather picture on a CD and took it back to Mark. He was equally impressed and agreed we should just stay put in Cabo until the weather cleared. The next morning (yesterday), Mark went to the internet cafe to check his mail. He too decided to put "Cabo San Lucas" into "Google" and get a bunch of links to weather for Cabo. He too went right to the CNN site. He hit the button to "set it in motion" and watched this pretty nasty weather on CNN, a very trusted site. Since it sort of looked like it was from yesterday, resembling the JPG file I brought back to him yesterday on the boat and kept there, he hit the "refresh" button. Up popped again the very same weather patterns: two huge almost fully formed circles of weather over either side of the southern tip of Baja California.
As he looked closer, he realized that the picture was from 2002 and it was a link to a CNN archive showing what the last hurricane looked like that ran through here! We stayed two extra days because we thought the rain, combined with the CNN version of current weather, looked to dangerous to set out for Puerto Vallarta! You have to wonder if our novice status is really that obvious! Hmmm. From now on we check the dates on all of the weather faxes we get over the single side band as well as the internet!

Oh well, I was just trying to help!
Arrived safely morning of January 18, 2004. We put in to La Cruz, which is just after Punta Mita in Banderas Bay (Bay of Flags). La Cruz is an anchorage, not a marina. However, after two and half wonderful days here, the swells are starting to impede my ability to sleep. So, today, after I upload this new web stuff, we are going to motor down closer to Puerto Vallarta which is still in Banderas Bay, and we are going to go to a marina. That will probably be Marina Vallarta. They also have a Marriott there. And Marriott has a new deal with AAA and we can get large rooms here for $143 a night (or I can just use points, but why do that!). So, we may resort to a resort (hah!).
Here are some photos of our trip.
On our way out of Cabo, clouds and lightening!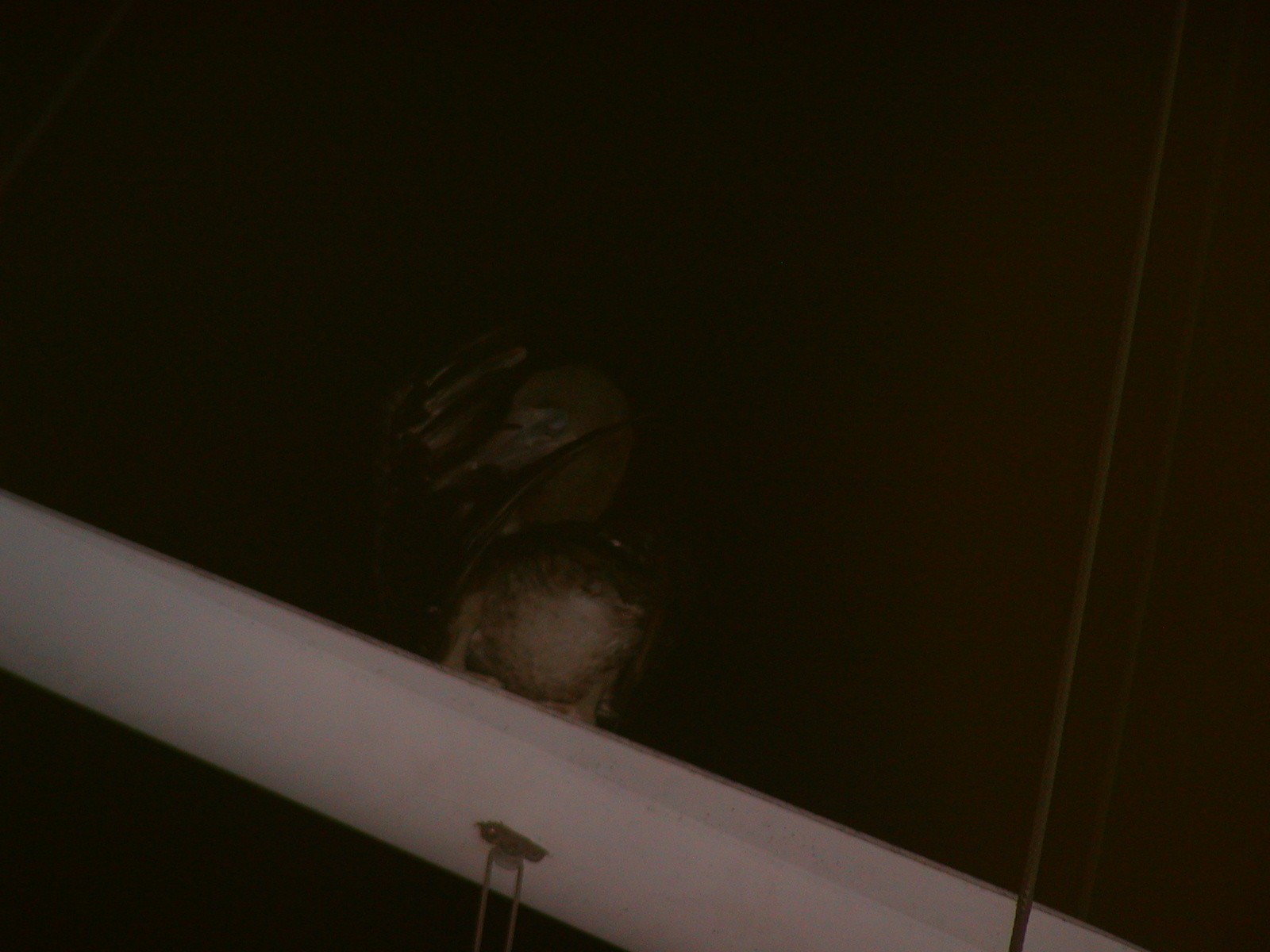 This was the bird from hell. It joined us on our spreaders and wouldn't leave for 3 hours. The kids shot their pop guns at it for an hour, to no avail. Meagan tried throwing one of her racquetball balls (she got a load for Christmas because she loves to befriend dogs!) This bird kept pooping all over the sales, the bimini, the dodger, the deck. Yuk! Had the main up. Mark got up at 10 pm and got rid of it by smacking it with several hanging lines! However, it just dropped down to the bimini, 6 inches from my face, and just sat there. So, fearless Mark had to shoo it away. What a stupid bird! Apparently they are called "booby's", but Mark isn't sure if that is a real name. They have long beaks and killer poop! Well, Mark, at 6:30 am pulled out the salt water pump hose from the anchor locker forward and had to wash and scrub the main, as we were expecting to get in about an hour later and couldn't put the main down without cleaning it first. Suffice it to say we are still cleaning up the poop. Lots of protein, like glue!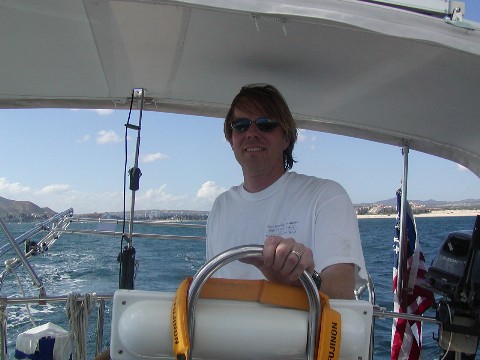 I realized on reviewing the site that I was remiss in not having more photos of our fearless Captain Mark!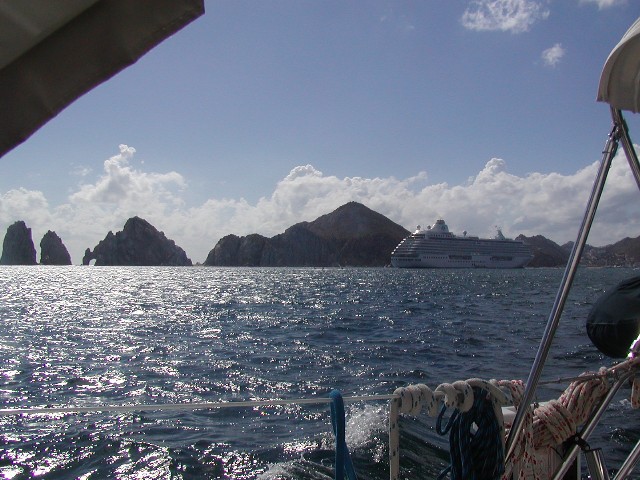 On our way out of Cabo San Lucas for Banderas Bay (Bahia Banderas), Puerto Vallarta, Mexico. Note the cruise ship! The rocks are quintessential Cabo.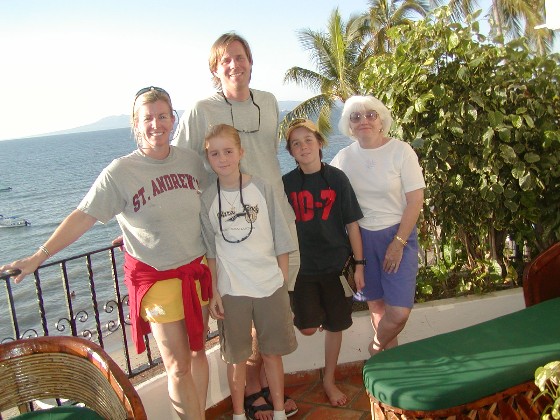 Took the $1 bus ride (whoa!) from La Cruz 35 minutes into Puerto Vallarta and found Irene and Barbara Higby staying in a condo! Yeah! Had a great visit and went on our way!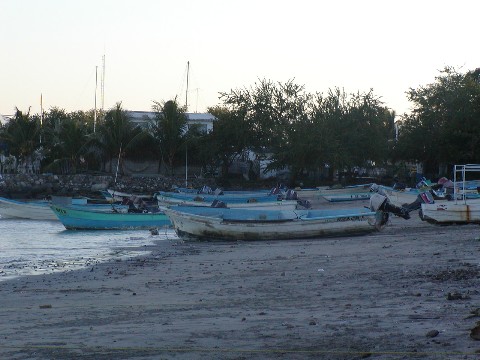 The "panga" fishing boats on the beach at La Cruz.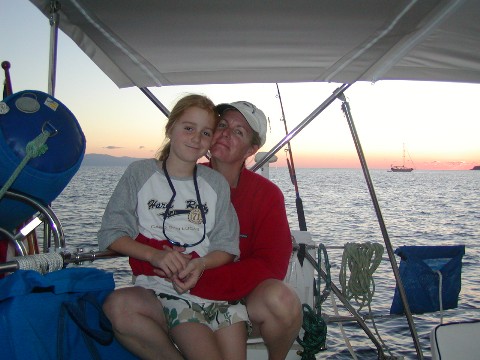 Sunset in La Cruz, Bahia Banderas, Mexico. Mom and Meagan!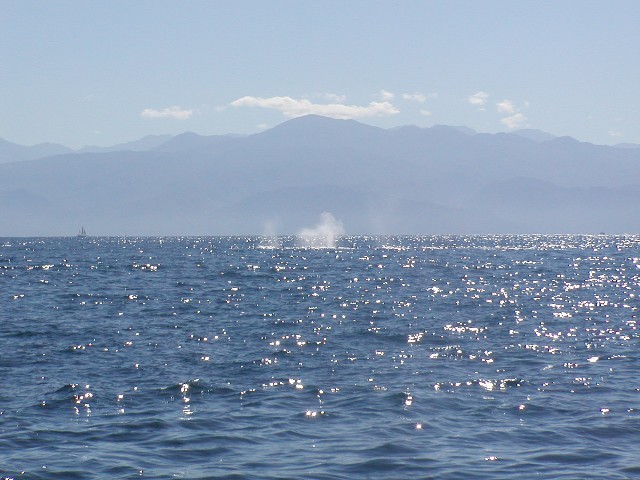 6 whales (does that make a "pod"?) were playing around inside the bay when we arrived. It was spectacular. However, I still have yet to figure out how to get a picture of one you an see! They were small and somewhat black. We had whale spouts each of the first 3 days we have been here.
LA CRUZ, BAHIA BANDERAS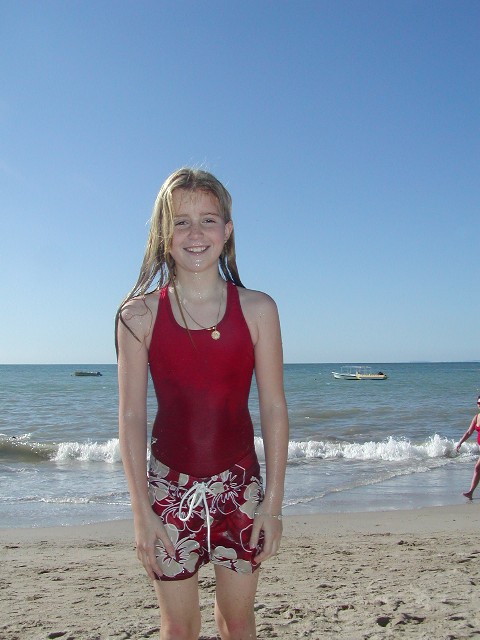 Meagan on the beach at Irene's condo in Puerto Vallarta. She has grown out of 2 sizes of bathing suits (length wise) since we moved onto the boat in Sept. 2003!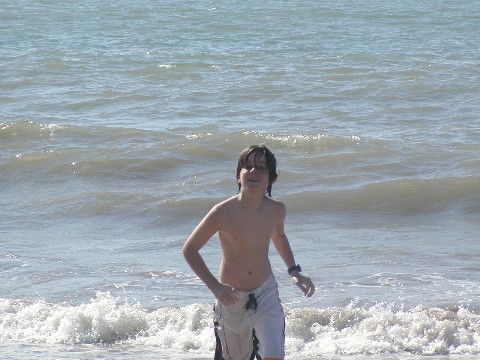 Kelvin playing at same beach. Yes, everyone in the family needs a haircut! Perhaps when we get to Puerto Vallarta proper this afternoon!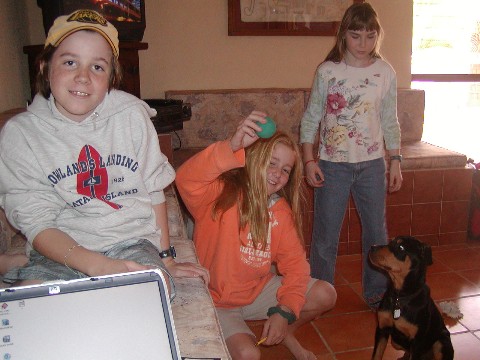 Kelvin and Meagan today, at Philo's, here in La Cruz, January 20, 2004, doing their school work with other girl in the same position. Meagan brought one of her balls for the puppy, Que Pasa. Nice name, huh!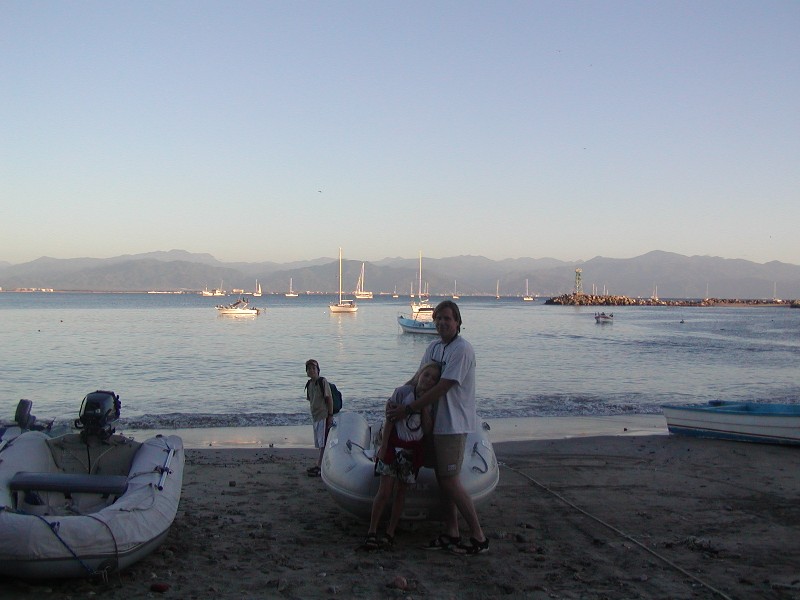 Putting our dinghy up on shore. Thank goodness Mark ordered the wheels that help us roll it up the beach where there is no dock! However, the waves rolling in the rest of the days we have been here make it very difficult to get in and out without getting soaked to the crotch! Can't wear your shoes, everyone jumps out as Mark "guns" it and cuts the engine (with the wheels down). Then he pulls it all the way up the beach, hoping that it is sufficient so when we return from our daily travails at the end of the day it hasn't been launched by increasing tide and waves. Then, we all go get our shoes out of the dinghy, put them on with sand on our feet as we have now jumped into the ocean and run up the beach hoping a big rolling wave doesn't pummel us from behind!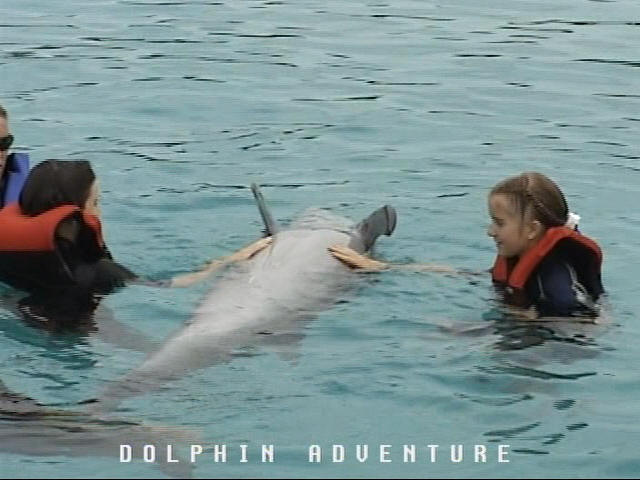 Kelvin and Meagan rubbing the belly of a dolphin! Go to the DOLPHIN page to see this great Puerto Vallarta adventure!
Kelvin with the Mariachi singers in Puerto Vallarta (they're playing La Bamba. Seemed like a reasonable request!)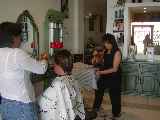 Haircut day! Everyone got a haircut. They all had to get their hair cut the way I wanted it cut because they hairdressers didn't speak English, and I am the only one who can tell them anything in Spanish! Meagan got 4 inches taken off though she only wanted 2, Kelvin got his sideburns cut, even though he wanted his hair to tuck behind his ears, and Mark got the back of his hair trimmed, even though he wanted it longer! Aha, language is the power!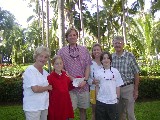 Char and Bryce and the Green family attended non-denominational church services on the lawn of the Westin Hotel, just down from the Marriott Casa Magna Resort that we are staying at for a couple of days. During the service, Kelvin stepped backwards after a song to sit back down and a spark went off! Turns out that there were 4 wires straight out of the grass that must have been previously connected to a light that shone up a tree. He must have connected the wires because "poof"!, a spark went off, smoke escaped, Kelvin jumped in surprise, and we all spent 5 minutes trying to figure out what happened. After that, the sound system for the pastor didn't work but we all thought Kelvin had finally been "Saved"! A bit scary though, and we're confident the Pastor told the Westin of this terrible lack of oversight!
Kelvin and Meagan are pointing at an iguana, though I don't know if the quality of this photo is good enough for you to see. So, I'll include the actual close-up of the iguana they are pointing at. They are wild here and quite hard to spot, despite their actual alarming size some times!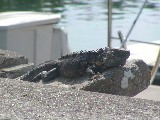 Here he/she is! Now look back at the other picture!
These are the parrots that the kids got to experience before their Dolphin Adventure. Kelvin's arm got tired holding his parrot because it was so heavy!
There is nothing better than using No. 30 all over your body and hitting the Marriott Casa Magna Resort's beach for three hours of building large sand castles!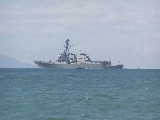 Can't figure out why this United States ship decided to moor itself at the land end of Bahia Banderas. It took us a couple of days to see the American Flag on the back. Joint operations? No movement back and forth to the boat that we can see! I guess this means we're safe for now, yes?! Mark just heard on the VHF radio this morning, during the 8:30 am SailorsNET that gives us all the local information, things people want to sell, known issues in the area, from all the Americans here on boats ..... that the men on board this vessel are in the area painting a school. Do we really have time for this? Great idea, but aren't we a bit short staffed?