VARIOUS PHOTOS
UPDATED Feb. 10. 2004

San Diego: Christmas Eve, San Diego Yacht Club, Kelvin

Baja: Letitia's Skipjack (yes, the same one!)

Leaving Ensenada: Letitia

Baja California: Meagan

Las Vegas: Meagan and Kelvin IMAX 3D

Cabo: Kelvin

Cabo: Kelvin and Mark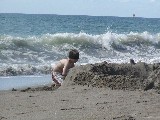 Puerto Vallarta: Kelvin

Meagan with her new braids

Puerto Vallarta: Mark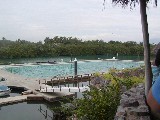 Puerto Vallarta: Dolphin Pool before we got in!

Bahia Careyes from the restaurant at dusk!

Meagan doing homework.

Mark at dinner in Bahia Careyes

Me grading papers (makes me sick when boat is moving!)

Our goofy children! Dinner in Bahia Careyes!

Meagan practicing her guitar! She is very good!

Kelvin reading Dava Sobel's book about the chronometer to his father.
Kelvin kayaking in Bahia Chamela.

Spanish vocab (the verb "tener") taped up to the bulkhead for our weekly Spanish lessons from Mom!

Mark taking Meagan's pumpkin pie out of the oven. Mmmm, it was yummy!

Kelvin after a shower, playing with legos. He builds pretty cool monsters and other inhabitants! Quite the imagination that boy!

Picture of Mark while sailing. Good lookin' Captains are rare!

My view from Kayaking the jungle river in Bahia Tenacatita.

Meagan kayaking the jungle river ahead of her father in the dinghy with Kelvin, and behind her mother, in the other kayak.

Meagan gets her shot at fame! Zihuatanejo, Mexico at Steve's restaurant, where you pick out your steak or hamburgers and cook them yourself. Restaurant is located over Rick's Bar, where everyone gets their mail and packages sent! No charge! Good for business!

These tchotchky shops are everywhere, all selling the same things! Kelvin and Meagan love to look at everything, in everyone!

Helado, or ice cream, is something we told the kids that Mexico probably wouldn't have! Who knew...now they want it all the time, every day, when we are in ports! Oh well, it has calcium, or something like that, right? This is at night in Zihuatenejo, which has many many helado stores, kiosks and vendors.
This picture of Kelvin and some of Meagan is proof that after almost 2 months in Mexico, this family is serious about suntan lotion! Barely a tan has sprung on anyone but me (Letitia) and that is not because I tried, it was because I was over-exposed even with 30! Only two small sunburns have occurred between the four of us during the entire trip! Who wants to look like an alligator later, and with this family's history of melanoma, we're not going to do anything differently!