Having moved out of our home in Torrance, we then moved into a temporary situation in a 2-bedroom apartment in Marina del Rey. This has afforded us the opportunity to work on the boat across the street at the California Yacht Club!
We decided to test whether or not we could really do all of this by not getting a land-line phone in the apartment. So, we walked the building and available apartments until we found one where our Nextel phones work! It turned out to be the two-balcony, two-bedroom, very noisy street location in the front of the building on the Lincoln side.
We put our mattress on the floor, put the kids on the boat cushions in the other room, and moved in a ton of boxes that were still in need of triaging before going to storage! The apartment does offer a T-1 internet connection, a pool, a gym, and full executive-type services with two car spots. The only thing we hadn't really considered was that the kids two cousins, Kelsey and Tripper, were to arrive in a matter of weeks for their annual pilgrimage to the Jr. Sailing Program for 4 weeks! This is their third year.
In a panic, I called a rental company and rented four single beds without headboards and bought multiple wire "boxes" that can be outfitted to be on top of each other and used them for each sailors clothing! The costs of this venture just keep on rising!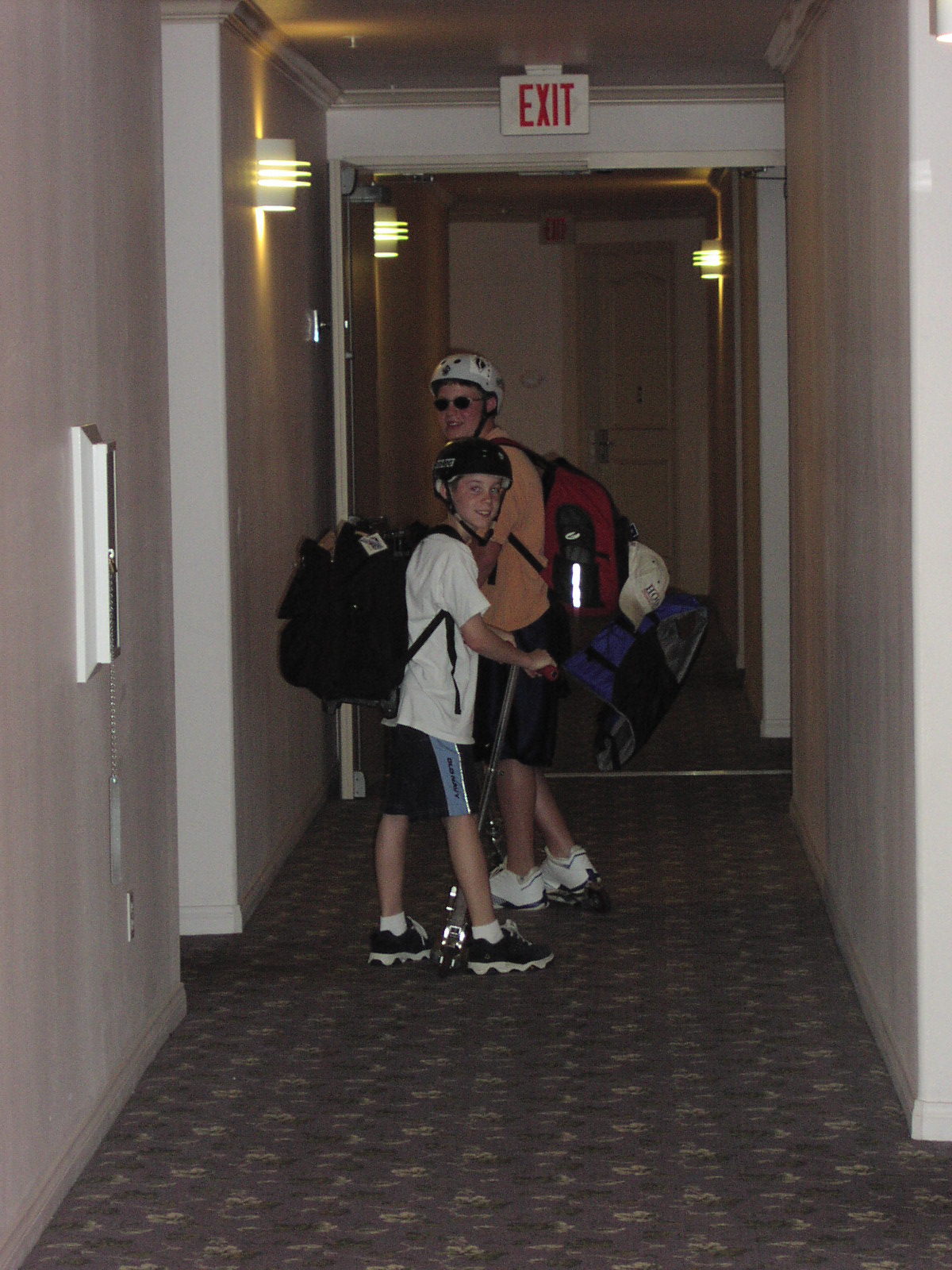 Tripper and Kelvin razoring down the apartment hallway on their first day of sailing camp! June 2003
Home Page
Moving Day.htm
Summer Apartment 2003
Final Days Marina del Rey
Leg 1 Catalina Island
Leg 2 San Diego, CA
San Diego Family Friends Sojourns
Bahia Santa Maria to Cabo San Lucas
Bahia Tortugas
Bahia Tortugas to Bahia Santa Maria
San Diego to Ensenada
109 Robinson Woods Charlottesville VA Apartment Rental UVA RUGBY AREA.htm